As a make-up artist I am always learning new techniques, applications and about new products. This is one of the highlights of my job. I love learning about new things and constantly growing. Every job I learn something new and when I am not on shoots or sets I am researching, reading, scanning every magazine, site, trend, top make-up artist I can possibly search for. It's almost an addiction!
Here are some of my top books that I love and constantly go back to for reference!
This is one of the first I bought, long before I started doing make-up! It's an old one, dating from about 1980,
but I love the hair techniques and all the odd health and beauty applications...
some things are still used today and some are very out of date.
Either way it is a fun one to have.
This is the newer version of Vogue Beauty that I own, obviously up to date with beauty routines, skin, hair and fitness regimes.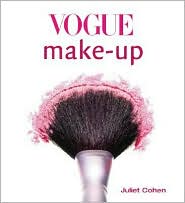 I also own this one which gives some good techniques for make-up
This one touches base on how to care for your skin and also some make-up techniques.
I own this 'Make-up' book and it is a great reference guide, however the actual application of make-up by the artist I think could be a lot better.
It's not really to my taste BUT it is a good reference guide and gives great break-downs of everything from lip shapes to make-up styles. I just wouldn't recommend applying the make-up the same way the artist does.
This is a great bridal reference book and one of the first I bought when I was starting out. It was a good book to show brides who were unsure of what they wanted or how to put into words what they needed!
This is a book I would LIKE to own but don't. I spotted it in a book shop a couple of months ago, but I haven't gotten around to buying it. However, a friend of mine has bought it and loves it and now I wish I had bought it that day as well! It seems to give great techniques for professional make-up artists and of course for those aspiring to be artists. I may have to get it soon!
Then of course there are loads of different types of magazines from Vogue to more obscure magazines. I just spend loads of time browsing the web for different mags online. I also scope out other people's blogs, especially fashion blogs as they often have fantastic photos up from their favourite shoots, catwalks and even their own images of their outfits etc! Everything and everyone is an inspiration!