My Favourites today aren't just a new, random favourites, but perfumes I have loved for many years.
I have always had a thing for fragrances. Your sense of smell is one of your strongest senses and for me smells are little memory banks, just like photos and songs are for others. Also....I have a major fear of smelling bad! HA!
I have a lot of perfumes I love, but I had to try and narrow it down to a good handful...Even that was difficult for me.
Here are my favourites:
Estee Lauder's Sensuous Noir-
Which I got last year in their autumn/winter range. This fragrance I actually
wear very rarely...but more for a sentimental reason as it reminds me of being pregnant and seeing as my son will be 1 year old at the end of the year...it's like I am waiting to wear it closer to that time to bring back the memories of when he first arrived and the excitement.
It's a warm, deep, musky smell which I think goes perfectly during the winter months. It's rich and 'thick' smelling and whenever my best friend wears it, it feels comforting!
RRP £34.00 - £47.00
DIOR Addict by Christian Dior
I actually started wearing this because my best friend, Ruth, always smelt amazing and I kept asking her what she was wearing....it of course was Addict. This fragrance has been a part of my 'wardrobe' since about 2005. I remember when I first bought it and it was sort of the first 'grown up' perfume I had bought as it was properly designer. I have been wearing it since and it will continue to be one of my main fragrances. Sometimes I forget about it for a while and then re-discover it and it makes me feel all warm and fuzzy inside.
Again, this fragrance, is warm, and comforting. It's 'heart note' is the Jamaican 'Queen of the Night' flower which only blossoms for a few hours and is considered 'the soul of enchantment.'
Now this next fragrance you may find a bit odd, seeing as my two other favourites are quite 'grown up'... but this is my beloved
Abercrombie & Fitch 8 Perfume.
This perfume I have been wearing since I was about 17-18 years old. It actually isn't that far off from the smells I have mentioned above, however, there is something more innocent and sweet about it.
Even when I wear this perfume now, I get so many compliments and people are always quite surprised that it is an AF perfume. I'm not saying it's surprising that they have made a decent perfume, seeing as they are a highly successful clothes retailer, but just because I think that people associate AF with teens, or ridiculously athletic people...and so they probably don't venture into a shop, let alone buy one of their fragrances.
But I have to say...I may not wear Abercrombie...I'm more of an American Eagle kind of girl (same company), but I will always have this perfume as part of my wardrobe. It's hung around this long...it is definitely not going anywhere. It's mature enough to grow with me and my ever changing clothes and fashion sense. It's mature enough to mature WITH me.
Again, not too dissimilar to the other fragrances because it is warm, inviting, not too harsh and definitely has people coming back for a second sniff!
PLEASE DON'T EVER DISCONTINUE THIS!!!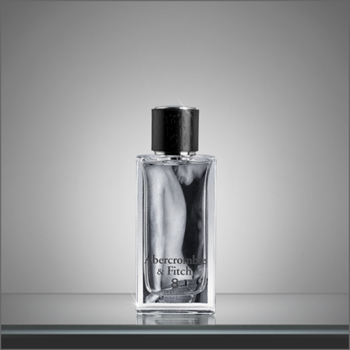 RRP £40-50
My fourth perfume on the list....and these are in no particular order...except maybe for one of them....is Dolce & Gabbana- The One which I call my 'liquid gold'. It is one of my pricier perfumes, but is well worth it, with the amount of essential oils it has in it. It has citrus, bergamot, mandarin, lychee and peach. Sticking to what I know, again this fragrance is sticky sweet, but not offensively sweet. It's mature sweet...like what you would expect a pretty girl you see walking down the street, should you smell like.
I also have this in The One Rose, which is a roll on one and it is equally beautiful.
Both these perfumes, however, only get used once in a while...because like I said, they are my liquid gold and it's almost as if I can't bare the thought of using it all up!
RRP £52.00
This next fragrance I love, actually used to be made by a company called Be Never Too Busy to Be Beautiful. This was a sister company of
Lush Cosmetics.
The perfume is
1000 Kisses Deep.
It is now sold by Lush under their own packaging and under the same name, so there is no missing out.
I worked for Lush not long after getting married in 2004. I discovered this fragrance soon after when Be was first launched. When I wear this perfume, which is usually during the winter, it reminds me of the first time I took my new husband (after our 1 year anniversary) to the US for the first time. I can wear it now and everything will come flooding back and I can quite literally see a map of everything we did that Christmas. It makes me think of happy times and family and I love it and wear it just to bring back that memory!
The story behind the making this perfume is quite sweet as well...It has touches of citrus and deep resins as well as osmanthus blossoms (whatever those are, haha). All of these fragrances together are supposed to evoke emotions. But the story behind it is, Mark (CEO of Lush), created the perfume in honour of the lasting love he shares with his wife.
RRP from £2.50 - 23.00
Last, but certainly not least, is probably my all time favourite perfume...shh, don't tell the others, I don't even like saying it out loud...it is
Clarins - Eau Dynamisante
. I first came across this perfume when I was about 18...or approaching 18. My mother took me to a Clarins counter to get me a little travel kit for my road trip I was about to embark on from Colorado to California. They lady at the counter sold this to me, saying it would tighten my skin....I was 18...and didn't need much firming at the time, however, the fragrance stuck with me and I have never turned back.
The smell of it reminds me of California sun, riding in the car, Venice Beach, Radiohead, singing and just having no cares in the world and new and exciting people I was meeting at the time.
This is the one smell which goes away from all the other, sweet, warm smells I like. This fragrance is one I wear in the summer or in the winter to remind me that summer will come again. I have tried the other Clarins fragrances and they just can't top this beautiful bottle of gorgeousness.
It has patchouli (which I normally don't like, white thyme, lemon, rosemary as well as ginseng. It's refreshing and clean, but not sharp.
RRP £28 -36.50